The desert above the Dead Sea can be surprising.  You can pull off the road (on to a dirt road) and think you are in the middle of nowhere when all of a sudden you are being presented with beads and scarfs and greeted with, "Twenty Shekels.  Twenty Shekels."
So, there we are on this lonely deserted road when all of a sudden…
They were a pushy lot.  One handed me a string of beads after telling him repeatedly, "No," and just walked away.  I ran him down and put it in his hand and said, "No thank you."
I did end up purchasing a keffeyah as I did like how it felt on my head.  (You may see me shoveling snow wearing this thing.)  As we left the area, I did notice a tag that read, 'Made in India'.  Oh, well.  I did buy it in Israel.
Our next stop was a life-long dream.  There was a time I was so in to the Dead Sea Scrolls I bought and read every book I could find on the subject.  The story of a Bedouin shepherd boy throwing a stone in to a cave which lead to the discovery of some ancient scrolls at Qumran intrigued me.  So, I could not pass the opportunity to see the cave, and visit the ancient Qumran community.
By the way, the Dead Sea Scrolls are currently on tour in Salt Lake City.  It is my understanding they will be on display through April.
We don't know a whole lot about the people of Qumran except they were a religious group who fled to the wilderness.  They performed ritual washings and had very strict rules.  It is suspected that John the Baptist may have stayed and studied with them.  The believed in a Messiah ben Joseph and a Messiah ben David.  Some say they were of the Essenes.
This much we do know… they were prolific writers.  Many of their writings have been translated and correspond very directly with the modern bible.
Our next stop was En Gedi.  This oasis is where David hid from Saul, and after an exhausting hike up the wadi (hmmm… I like that phrase, "Up the wadi".  Think it will be come popular?)  we found the waterfall.  No wonder David hid here.  (By the way, this is no hike for the faint of heart or the weak-kneed.  It is steep, lots of stairs cut in to the rock, dry and dangerous in places.)
It is said that the source of the waterfall is in Bethlehem.  How symbolic!
At the base was a nice gift shop.  I've come to learn that Matt can't resist buying an ice cream bar.  He shared an object lesson using it.
I saw this Bedouin man walk up to the snack counter.  At the same time there was a long-haired man at the counter.  This shows some of the diversity of Israel.  We brag about America being a melting pot, but we don't hold a candle to Israel.  I met people from all around the globe during our visit.  Many are Jews who have moved there to live.  They come from countries like Russia, Germany, USA, Argentina, Bolivia, and more.
Our next stop was the shores of the Dead Sea.  This salt lake is 2nd most salty in the world.  The water level continues to drop.  Currently, it is about 1,400 feet below sea level.
The salt creates a beautiful Mediterranean blue in the water.  (Which, the Mediterranean Sea is only a few miles to the west.)  The frothy foam on the rocks looks like suds from the washing machine.  This is largely due to the alkalinity of the water.  Of course, you can float in the Dead Sea without any effort.  We didn't try it as we were not prepared with swimsuits and towels.
You can pickup up big chunks of salt (above) all along the shore.  Like the Great Salt Lake, they harvest the salt in areas.  Yes, you foodies will recognize "Dead Sea Salt" as found in the gourmet section of the grocery store.
We decided to head south and cut across and come up to Jerusalem from the south.  The drive was interesting and we saw what that part of Israel looked like.
By the way, here's a map.  You can see we are very close to Egypt and the Gaza Strip.  We went to Beersheba before heading north to Jerusalem.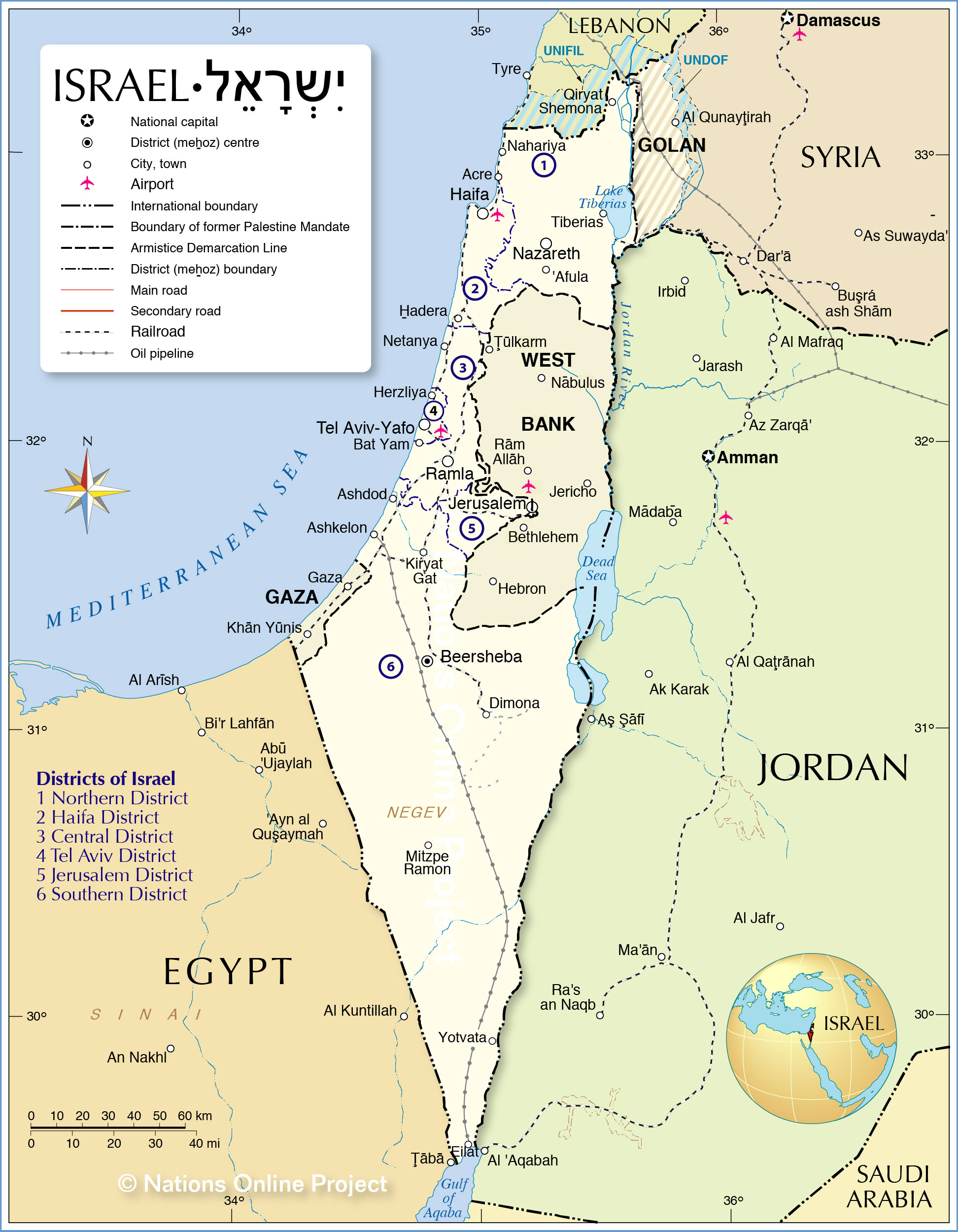 Oh, before I go on, I thought I should mention the GPS we rented from Budget was a Kosher GPS.  It seems certain routes it would avoid.  In fact, some cities it would not even give us direction to them.  Why?  They were in Palestinian occupied areas.  For example, it would try to route us around the entire West Bank and not through it.  This meant we had to rely on paper maps instead of our GPS.  And, it also meant passing through military check points.  You MUST carry your passport at all times when in Israel.
We stopped at Mesada to eat at the cafeteria.  Good food.  I had the beef with couscous, veggies (cooked and fresh), pita and hummus.  One of the veggies was an onion puree condiment.  It was quite good.  I could see using it as a substitute for mayo on a burger or sandwich.
I got a kick out of the name of the meal.  Yup, the Happy Meal.  78 nis means 78 shekels.  70 shekels is $20.  Thus, 78 is a little over $22.  Yeah, food is expensive in Israel.
As we drove down the highway, I saw this Bedouin shepherd.  When he saw I had a camera, he immediately turned and covered his face.  His expression while doing so was as if to say, "Oh, brother!  Americans."  You see sheep, goat and camel herding all along the shores of the Dead Sea.
Now, here is a sign you don't see often in the USA.  The first one, yes.  The second one, no.  In Western New York we have our Amish buggy signs, but I don't think I've seen a camel sign.
When we got back to our hostel, Matt asked if Doug and I wanted to take a walk.  We headed to Jaffa Gate and there we bought some bread.
Just to let you know what everything is…  Starting by the man with the pink bag and moving clockwise around the table:  bagels, a nut, nougat and honey bar, date-stuffed pastries, and more bagels.